Rising safety costs. Disruptive labor shortages. Eroding margins due to material costs and processing errors. Increasing consumer demands for health and safety transparency.
The meat processing industry is being squeezed from many different directions. While there isn't one simple fix to address these challenges and future-proof your business, inspection technology has an important role to play.
It can improve food safety by finding and eliminating a wide variety of foreign materials.
It maximizes throughput thanks to real-time monitoring detecting issues quickly and reducing the need for costly downtime to address quality-related problems.
It reduces condemns and optimizes yield by ensuring tighter process controls and automated least cost formulation.
When it comes to foreign materials detection, evaluating the efficacy of different inspection systems isn't an apples-to-apples comparison. For example, manual inspectors are sometimes able to find very small foreign objects, but their attention naturally drifts when needing to focus on the same task for hours at a time.
Vision systems, also known as color cameras, can only find objects if there's a strong contrast with the background. This makes it difficult to detect foreign materials that are a similar color to meat – like wood, cardboard, white plastics, and bone.
X-rays and metal detectors can see inside products, but they are each suited to finding very specific materials. For example, x-rays are great at detecting high-density materials, and metal detectors can unearth ferrous metal objects. However, both of these technologies will miss a broad range of the low-density materials that are commonly found in processing plants, including plastic, wood and cardboard.
PPO's Smart Imaging Solution is different. The reason why comes down to a unique technology: hyperspectral imaging.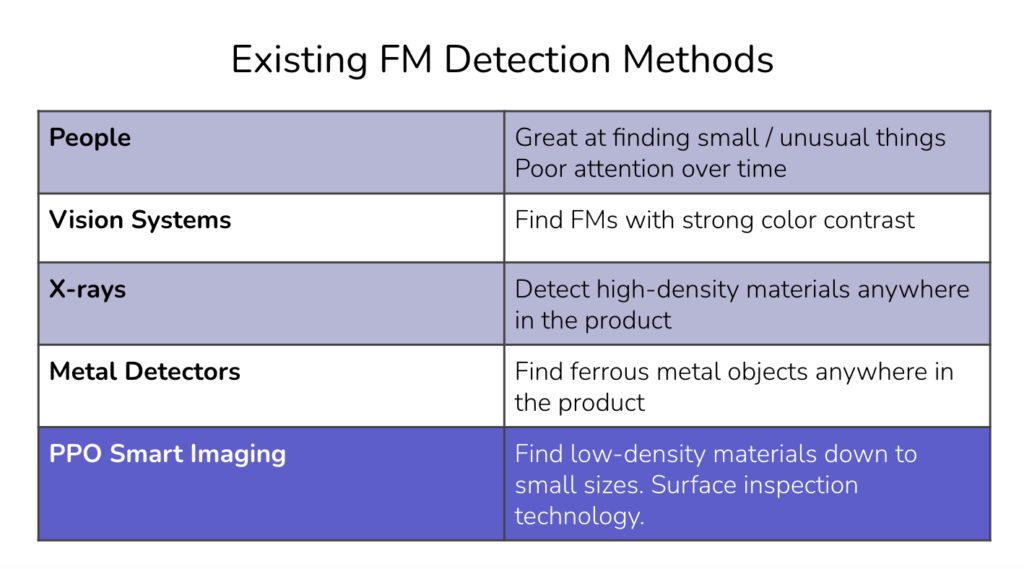 What Makes Hyperspectral Imaging So Effective?
"Hyperspectral" refers to looking at hundreds of specific wavelength bands of light. A hyperspectral imaging solution illuminates product on the conveyor belt with a broad spectrum light, capturing the reflected light and breaking it into different wavelengths. When the light interacts with the product, wavelengths are reflected and absorbed differently based on the chemical composition of the sample. The reflected light contains the chemical fingerprints of anything on the conveyor belt, including meat products and other materials that shouldn't be there. This is what allows PPO's Smart Imaging System to detect a wide variety of low-density foreign materials. According to Tim Stork, Senior Solutions Engineer at PPO, no other solution can detect as many different types of foreign materials, regardless of color or density.
"You may have heard other companies refer to their systems as hyperspectral," says Stork. "In reality, these systems have a limited number of wavelength bands, which translates into a more limited range of capabilities, with less flexibility to adapt over time. They actually fall into the category of multispectral imaging."
PPO delivers the only true and proven hyperspectral system to the meat processing industry. PPO's Smart Imaging System also includes a high-quality color vision camera, giving meat processors the best of both worlds.
The NIR (near-infrared) hyperspectral data provides information about chemical composition by looking at over 500 discrete wavelengths of light.
The vision system is a complementary technology that provides high-speed, high-resolution images with top-quality color measurement.
Combining the data from both of these cameras increases the solution's capabilities.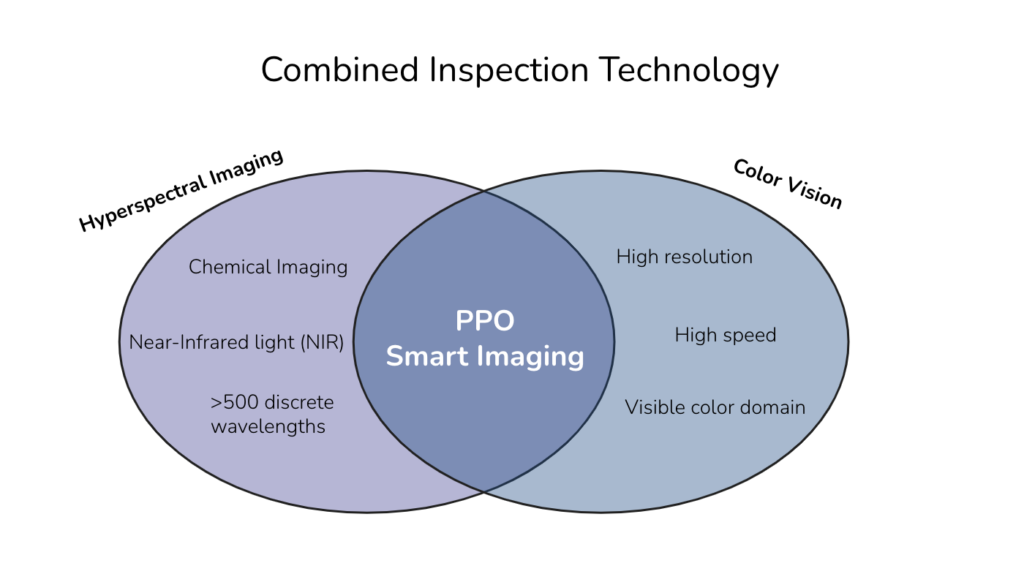 Go Beyond Simple Product Scanning
Once you accurately detect foreign materials on your processing line, you need to efficiently remove them from your product stream. This is where having the right hardware comes in. By combining smart imaging with a reliable system for product handling, PPO gives you an integrated solution with the power to flip product to see multiple sides and even reject unwanted materials.
PPO's Smart Imaging System is appropriate for a wide variety of product types, including proteins like chicken, pork, beef, and turkey. It also handles diverse formats, like trims, whole muscle, ground products, and various states of fresh and frozen, raw, cooked, and ready-to-eat products.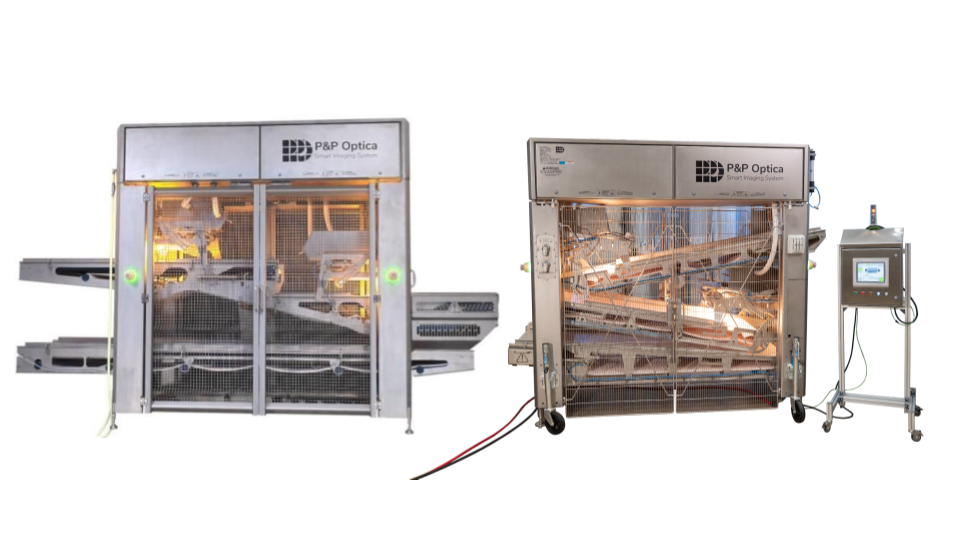 Drive Real-time Decision Making with Data
PPO's Smart Imaging System collects rich spectral information on all products using advanced methods to analyze this data and make live decisions. Machine learning unlocks the full potential of the data by uncovering subtle spectral differences that are beyond the reach of manual analytics.
This is not a one-size-fits-all approach. The experts at PPO train different machine learning models for each application, and multiple applications can operate simultaneously without sacrificing overall performance. To put this into perspective, let's look at an example of a line processing pork chops.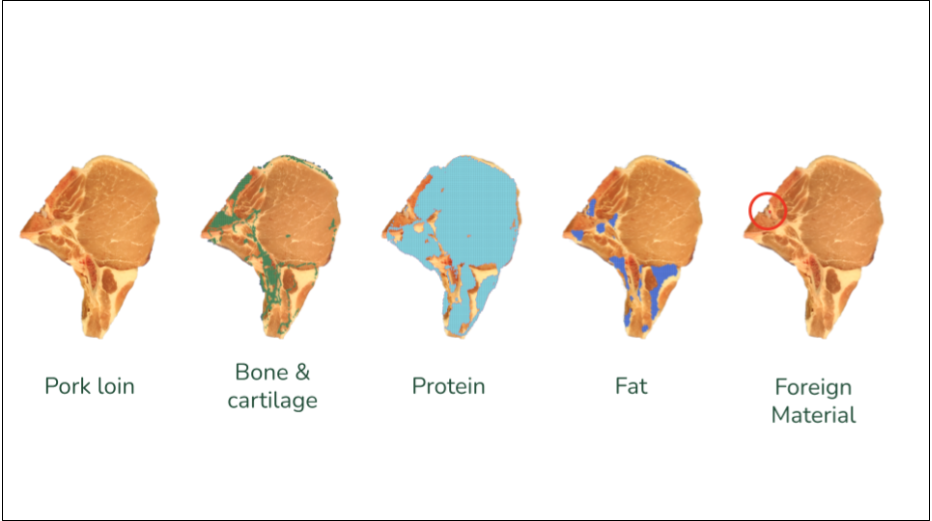 One machine learning model can look for bone, while another model measures fat and protein content, and additional models seek out different types of foreign material. Layering the machine learning models like this creates an incredibly flexible solution that simultaneously analyzes the data for all of these metrics.
"Once you invest in the equipment, the solution will adapt and grow based on the changing needs of your plant," says Stork. "The value of the solution continues to grow with your business."
Many Applications. One System. Zero Compromise.
In the plant, PPO's Smart Imaging System detects a wide variety of foreign materials that other systems can't:
Wood – usually from pallets
Cardboard and other paper products, like labels
Hard plastics, like interlocking conveyors, guarding, combo bins, plastic tools. This includes a variety of plastic types, including polyethylene, polypropylene, acetyl, and others.
Soft plastics, like liners, aprons, and flexible continuous conveyor belts
Rubbers, including gaskets, O-rings and sealant materials
Natural fabrics, like cotton gloves
Personal protective equipment, including rubber gloves and earplugs
Materials that occur naturally in product, like bone
This breadth of foreign material detection delivers measurable ROI to PPO customers, whether they're a primary harvest or secondary processing facility. They throw away less contaminated product, reduce downtime associated with cleaning contaminated equipment, control chargebacks, and save time and money by preventing equipment damage from hard foreign materials.
PPO solutions also deliver highly accurate live in-line analysis of the full product stream because they directly measure fat moisture and protein content. This overcomes the shortcomings of traditional methods for lean point measurement, such as relying on experienced operators for grading, putting up with the delays of offline lab tests, or trusting indirect calculations of the lean component.
"Having an accurate measurement of protein and water content is critical for certain product formulations," says Stork. "By enabling tighter control of product formulation and providing live feedback for process control, our customers reduce their material costs and improve product quality."
PPO's technology can measure many other important metrics in parallel with foreign material detection without sacrificing system performance:
Physical specifications, like size and shape
Meat quality attributes, including tenderness, marbling, color, and texture
Detection of myopathies, like woody breast in chicken
Plus other product metrics, such as water activity in shelf-stable, ready-to-eat products
Future-proof Your Processing Plant
The combined power of hyperspectral imaging and data-driven decision making gives meat processing plant leaders the power to conquer many of their inspection biggest challenges. You can learn more about the powerful science behind hyperspectral imaging through this short video series.
If you're ready to learn how PPO's proven and patented Smart Imaging System can help you boost efficiency, eliminate waste, and deliver safer, healthier food to your clients, reach out.