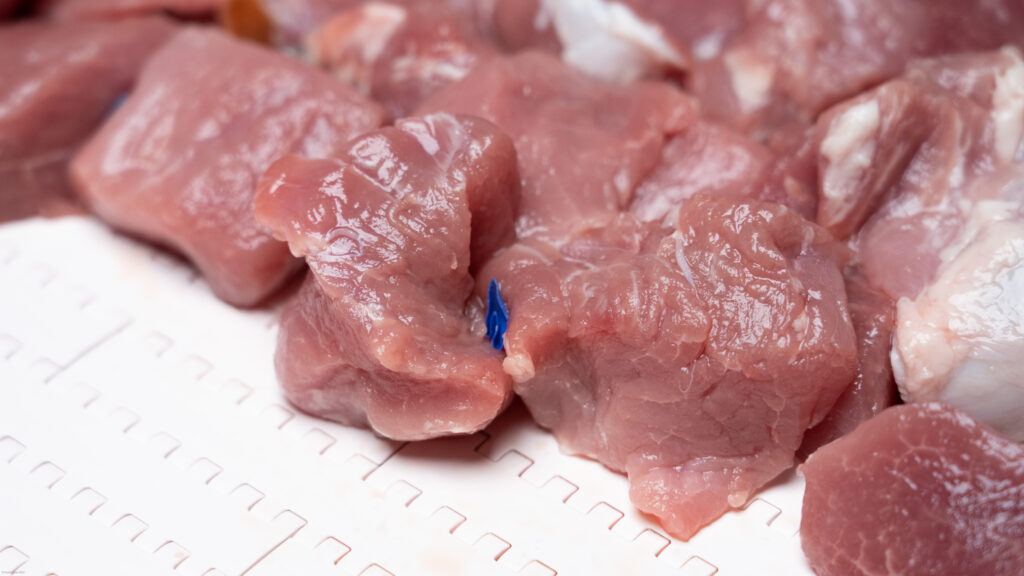 There's nothing quite as invigorating as getting out of the office and onto the floor of a food industry event. Speaking directly to the people on the front lines of the food industry is an amazing way to unearth insights you simply can't get anywhere else. After attending events like IPPE and the FPSA Annual Conference earlier this year, our team members compared notes and found one red thread dominated every conversation: future-proofing is top of mind.
Of course, future-proofing is a broad concept that can touch everything from sustainable products to changing consumer demographics to technological shifts. This can raise a lot of questions, like:
What are processors currently doing to prepare their business for the changes we all recognize are coming?
Which trends should they be paying attention to?
What technologies are food processors seriously considering?
How are consumer preferences impacting the industry?
We're here to separate the helpful from the hypeful. Keep reading to unpack the top 5 trends we're paying attention to through 2023 and beyond.
Trend #1: The Rapid Pace of Technological Change and Innovation
Why it matters:
Meat processors are increasingly looking towards technology to improve their operations and reduce costs. This has them evaluating new technologies like artificial intelligence, robotics, machine learning, and hyperspectral imaging.
According to a recent report released by PMMI entitled Automation Timeline: The Drive Toward 4.0 Connectivity in Packaging and Processing, "manufacturers surveyed have been actively expanding both machine and software automation in the past five years" and "there remains significant room for continued growth in the next decade."
The current state:
The food processing industry has been slower to adopt automation compared to other industries, like automotive. Unlike cars, each meat product is unique – no two chicken breasts are ever going to be exactly the same. These product inconsistencies contributed to delays in the technology evolution. Industry leaders have been working on advanced solutions that can precisely evaluate each piece of product.
Computing technology is now at a point where it can evaluate thousands of pounds of product simultaneously. The best part? Automation solutions can perform repetitive tasks for a longer period of time than humans.
Looking forward:
The pace of technological change and innovation is brisk. As new technologies and processes emerge, food processors must be able to adapt quickly and effectively in order to remain competitive and maximize efficiency. This may involve investing in new equipment, automation, and data analytics tools, as well as developing new products and services that meet the evolving needs of consumers.
Of course, when it comes to the future use of digitization, some in the industry may be wishing for a holistic digitization solution that resets the way things are done. According to the National Provisioner, "it's better to practice to use artificial intelligence and machine learning to solve specific problems bit by bit." For example, digitizing and automating certain parts of processing like safety inspection and data entry can speed up production and maintain customer needs. Or processors can tap into artificial intelligence (AI) and software technologies to centralize data entry and record keeping.
Trend #2: Repurposing Labor in Food Inspection
Why it matters:
Over the past few years, COVID and a low unemployment rate created a perfect storm that saw food processors struggling to fill manual inspection tasks with "two-thirds (61 percent) of agri-business owners turn[ing] to their existing staff to work more hours due to lack of staff." Because this industry still relies heavily on humans, this has resulted in labor shortages and process inefficiencies. To combat these problems, food processors are now looking to invest in technologies that can reduce long-term expenses such as labor, repairs and downtime.
The current state:
Implementing inspection automation technologies, like X-rays and vision systems, is a viable option for filling the food inspector talent gap. There's another big upside to leveraging technology to help fill human inspector shortages: studies have shown that human vigilance is the best in the first 15 minutes of inspection, whereas technology will perform consistently no matter how long the inspection period runs.
Looking forward:
Tapping technology to streamline inspection won't put humans out of work. Current food processing talent pools can be cross-trained or upskilled to fill other essential roles in the organization.
Trend #3: The Sustainable Supply Chain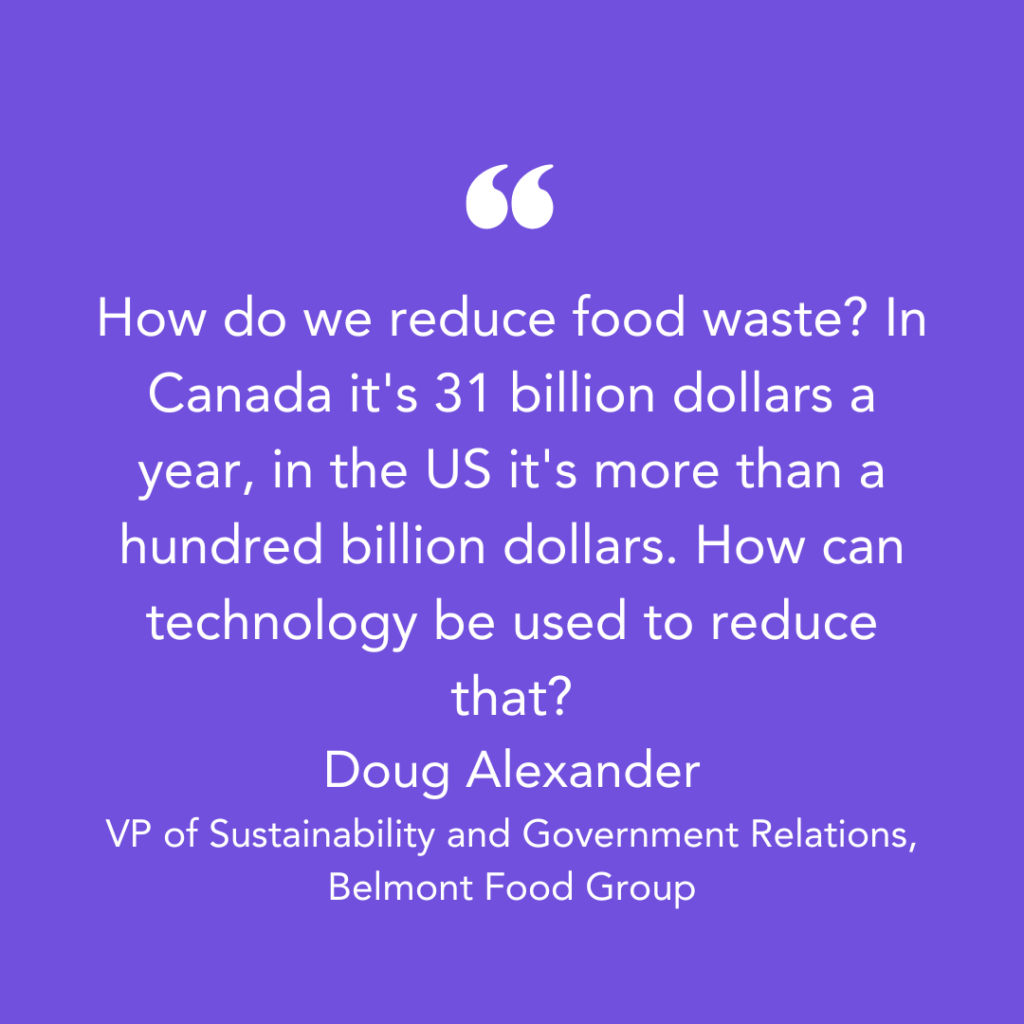 Why it matters:
Sustainability is important to both your consumers and your bottom line. Every year, 33% to 40% of the world's food is lost or wasted. Stopping this bleed represents a huge opportunity to significantly boost the efficiency and profitability of a plant.
Another important consideration is that consumers are becoming more aware of the environmental impact of food production and increasingly seeking products that are produced in a sustainable way. According to Attest's top consumer trends of 2023, "18% of consumers are purchasing from environmentally-friendly brands." Additionally, according to the 2022 Food and Health Survey from the International Food Information Council, they "found that 39% of respondents said environmental sustainability impacts their food decision-making process, up from 27% in 2019."
As the collective consumer conscience turns towards lessening environmental footprint, food processors who can demonstrate they are walking the sustainability walk will have a distinct competitive advantage.
The current state:
Many food processors are setting sustainability goals and implementing meaningful initiatives to achieve those goals. For example, Tyson is working towards achieving net zero by 2050 by reducing food waste. In 2020, they diverted approximately 5000 pounds of waste from the landfill. Smithfield is also working towards and is on track to halve food loss and waste by 2030. Costco's goal is to decrease food waste by decreasing the amount of waste going to landfills and diverting it. They're currently taking unsold rotisserie chickens and making them into soup and pasta. Finally, Olymel is aiming to reduce food waste by diverting pork and poultry by-products for pet food.
Looking forward:
Technological advances are reducing the amount of food waste processors create. For example, PPO's Smart Imaging System has reduced food waste by up to 80% for its clients by alerting the processor before a recall incident and keeping millions of tons of food out of landfills. The technology can evaluate poultry products for woody breast to see if it's better suited for a chicken nugget. The same technology can also assess quality characteristics like protein, water and fat content. And using AI to track what's happening on the line gives processors and consumers verifiable data on the sustainable impacts of the food they eat.
Trend #4: Making Data-Driven Decisions
Why it matters:
In Industry 4.0, AI and machine learning technologies process and collect millions of data points. The technology can collect so much information that it would take years for humans to process it. While the volume of data is impressive, collecting data for the sake of collecting isn't actionable. What is worthwhile is leveraging AI to mine the data for useful information processors can use to make strategic decisions.
The current state:
AI and machine learning are powerful tools for collecting certain information and decision-making. For example, AI can be used to track flavors that customers like and bring new products to market faster. It can also be used to track more granular information around products moving through the processing line at meat plants.
PPO's Smart Imaging System generates and processes 20 TB of data a day, making 16 million decisions each minute using our AI engine. Our platform learns over time, eliminating bias adjustments. Processing plants are using the rich chemical data to do things like:
Optimize production by seeing insights on foreign material and quality issue trends
Classify specific materials involved in a foreign materials incident to trace them to a specific source
Looking forward:
In the future, we'll be able to share information about what's happening up and down the production line. As PPO's Director of Data Insights, Brad Oldenberg, explains, "Leveraging AI in the plant opens doors to collecting data around things like what a product's growing conditions were like prior to plant arrival. We'll be able to provide insights on what's happening on the farm all the way through to the dinner table – think as granular as tracking consumer preferences around cuts of meat in restaurants or when buying groceries. Processors will be able to use this information to make decisions on how to efficiently use their product."
Trend #5: Traceability in Food Safety and in Processing Plants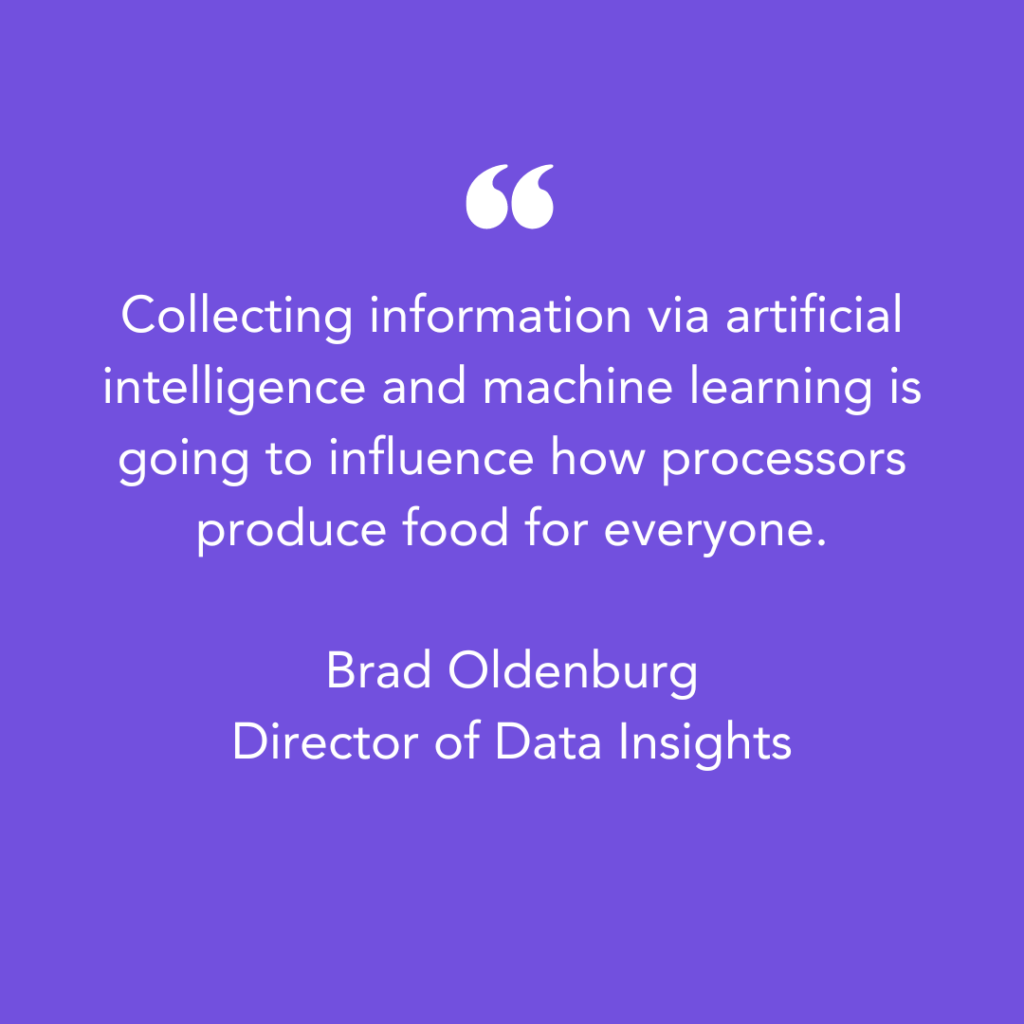 Why it matters:
Processors have been looking for ways to provide greater transparency and traceability throughout the supply chain. This includes the use of blockchain technology and other digital solutions to track products from farm to table.
Last year, the interest became imperative with the FDA announcement around the FSMA Final Rule on Traceability. The rule went into effect on January 20, 2023 and it means that processors are now required to have a traceability plan and critical tracking event to prevent recalls.
The current state:
Thanks to the uptake in detection technologies and automation, there have been minimal recalls. While last year was one of the safest years for foreign material recalls, foreign material recalls could now get even lower thanks to traceability. To help with traceability, some processors are also considering solutions that can simultaneously detect foreign materials and track their products.
This year we anticipate the number of foreign material recalls to also be low. One reason for this is last year, the FDA announced the FSMA Final Rule on Traceability. The rule went into effect on January 20, 2023. Now, processors are required to have a traceability plan and critical tracking event to prevent recalls. To help them with traceability, processors might consider solutions that can detect foreign materials and track their products at the same time.
One option to consider for tracing foreign materials is finding inspection equipment that can find and track what's happening on your line. PPO's Smart Imaging System can detect hard-to-find materials like plastic, rubber and cardboard in real time. And using PPO Insights, processors can track and report on foreign materials and quality issues with real-time data with no additional configuration of a third-party application.
You can't predict the future. But you can prepare for it.
Processors who are serious about future-proofing their businesses should consider investing in Industry 4.0. The inherent ongoing automation and digitization of manufacturing and other industrial processes has the power to reduce food waste, fill the labor gap, digitize critical tasks and precisely execute repetitive tasks. Additionally, the ability to automate food traceability and drive sustainability are both competitive game changers.
Moving towards an automated plant is one step in optimizing production and improving your bottom line. PPO's Smart Imaging System is a great place to start.

Ready to future-proof your plant? Contact our sales team to learn how PPO is saving millions of dollars for meat processors all over North America with automated detection of low-density foreign materials.