Foreign Material Detection: High ROI from Quality and Efficiency Gains
Contaminants like wood, plastic, and cardboard can slip through traditional detection methods and make their way into processed meats. This not only poses safety risks, but can seriously damage a company's reputation. That's why more and more meat processors are turning to hyperspectral imaging systems like ours.
P&P Optica's technology helps find and remove these dangerous foreign materials that other methods miss. And in working closely with our clients, we've heard story after story of how hyperspectral imaging has improved their operations and given them peace of mind. Jamie Poholko, on our customer success team works closely with some of our clients and shared some of the success stories they've heard in a recent webinar. We've summarized a few of those stories here so you can hear from meat processors' perspective how hyperspectral imaging has delivered results and an undisputed return on investment (ROI):
ROI Story #1: Secondary Poultry Producer Overcomes the Shortcomings of X-ray and Metal Detection
Challenge: This secondary poultry producer prepares different types of products for further processing, including whole muscle breasts, wings, and trim. Their current x-ray and metal detection systems were not adequately finding foreign materials like rubber, bone, and plastic. To better inspect incoming raw chicken, they wanted to implement a multi-hurdle inspection approach to catch contaminants missed by traditional single-point methods. The company sought to combine multiple inspection technologies in a series to create redundant safeguards against overlooked foreign materials.
Solution: This producer added in PPO's Z-Configuration System to round out their automated inspection systems.
Outcome: PPO's system continues to find or found foreign materials on a daily basis, including blue plastic, wood and cardboard. The system has been proven to quickly identify, reject and remove foreign materials out of the product stream they were able to prevent further condemns in their process.
Payoff: This secondary poultry processor's investment in a hyperspectral imaging system paid for itself within six months.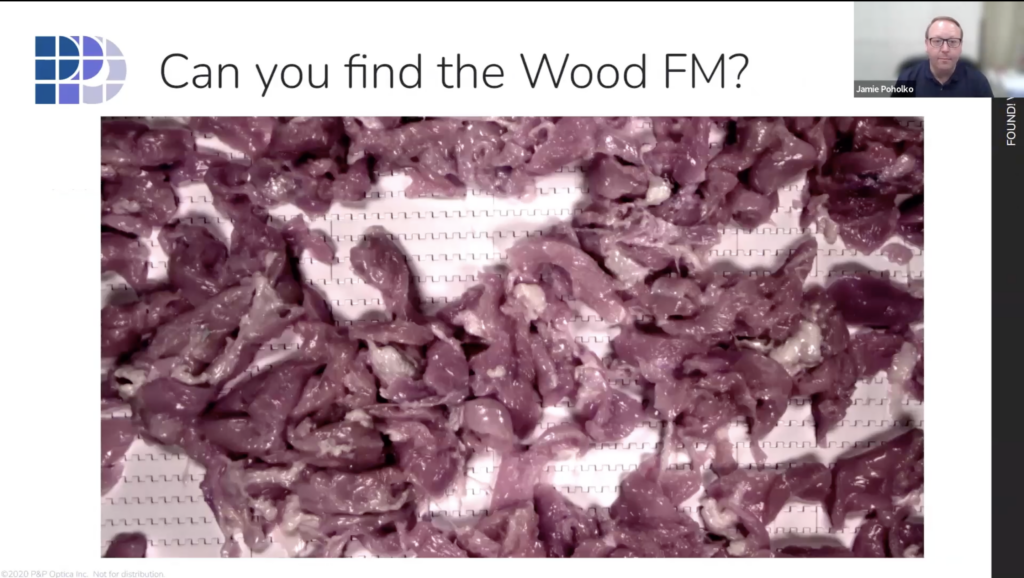 ROI Story #2: Pork Processor Achieves Zero Downstream Foreign Materials
Challenge: A major pork processor implemented a progressive corporate process called "start clean, stay clean" to further prevent and reduce foreign material contamination in all their products. This mandate requires implementing a multi-hurdle approach to detection vision system, x-ray and metal detector on the line. In order to meet this initiative, they needed a solution that would reliably detect and reject low-density foreign materials including cardboard, wood, and plastics.
Solution: They installed PPO's Waterfall System to perform double-sided inspection on frozen pork chunks.
Outcome: Since installing PPO's system, this customer has had zero downstream foreign material findings, which is ONLY the case on the line where PPO is installed.
Payoff: This major pork processor's hyperspectral imaging system paid for itself in less than 15 months, through both improved margin and labor savings (see photos below of actual rejected product which lead to Zero FMs). They not only had zero condemns, they were also able to redeploy an inspection employee to higher-value tasks.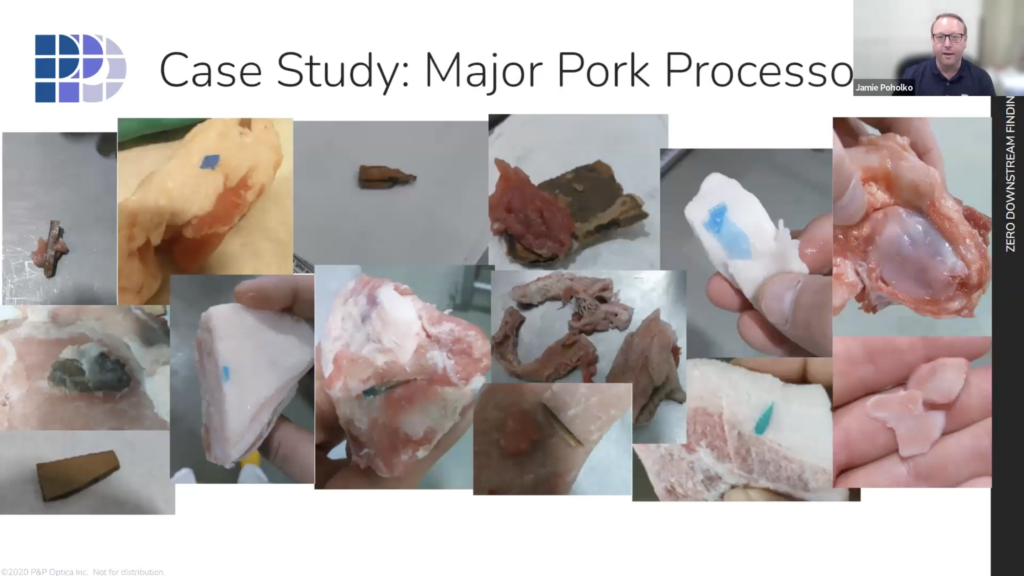 Explore this story and see a sampling of the foreign materials this pork processor detected.
ROI Story #3: Ready-to-Eat Processor Puts an End to Consumer Complaints
Challenge: A processing operation that prepares different types of ready-to-eat poultry and beef for major retailers was troubled by a plastics foreign material complaint from consumers. This created high stakes to implement a solution that would find small, difficult-to-detect foreign materials in their process before packaging – specifically conveyor plastics, cardboard and wood. 
Solution: This processor chose PPO's Waterfall System to inspect their cooked chicken breast strips and cooked chicken breast chunks on wooden skewers.
Outcome: Even before the system was fully operational, the PPO system found a number of pieces of blue plastic that were 2-3mm in size, as shown below. Removing those materials from the process prevented them from reaching consumers, reducing complaints and protecting brand reputation for this processor. 

Payoff: This customer is in the final phases of the implementation process.. We're excited to see the full ROI that's still to come.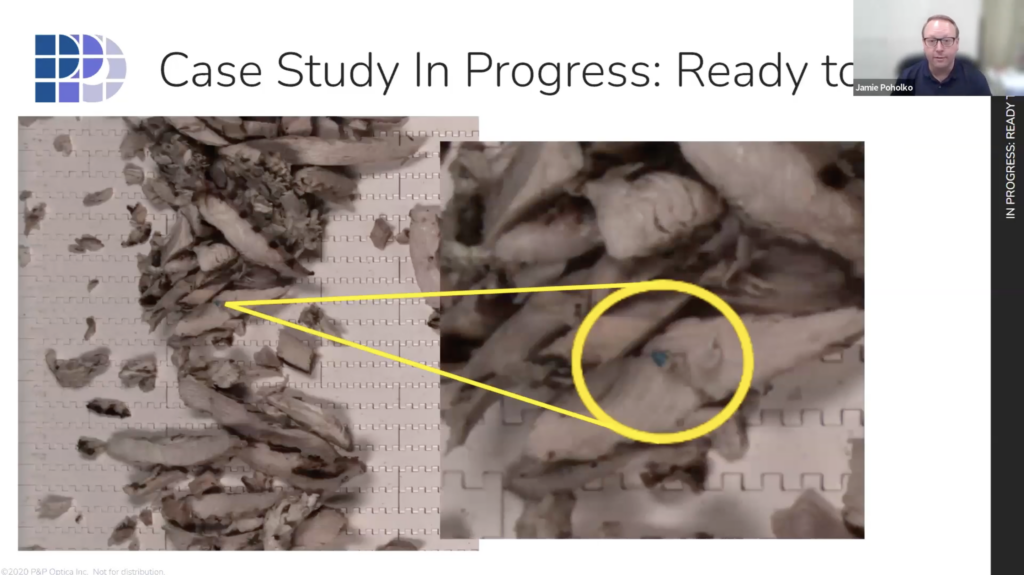 Watch this ready-to-eat processor's story.
ROI Story #4: Harvest Plant Discovers Source of Bone Issue
Plot: As with the previous stories, this southern US-based harvest plant wanted to improve their detection of plastics, cardboard and wood on the production line.
Action: They chose PPO's Z-configuration system to inspect whole muscle chicken breasts and butterflies.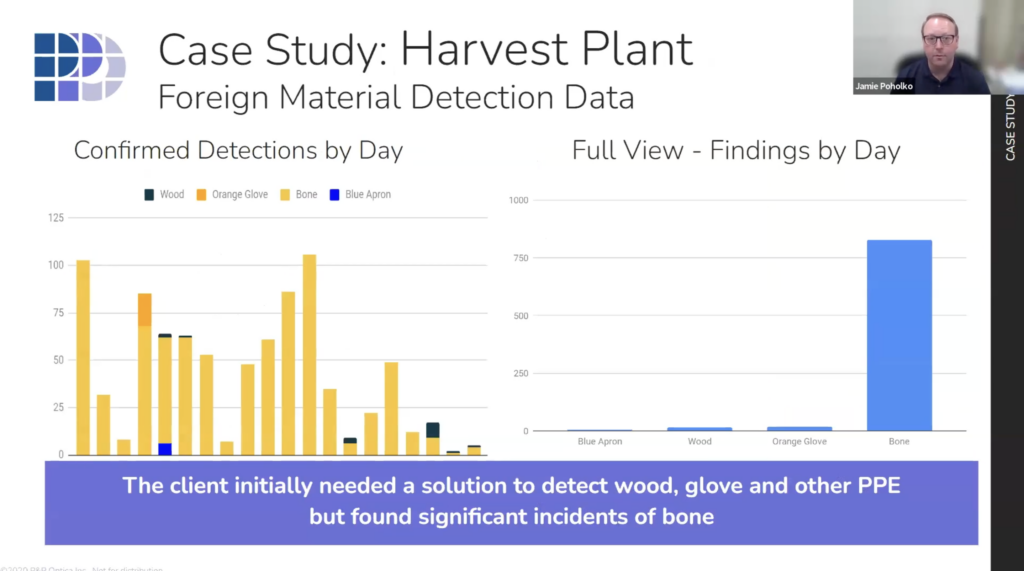 Outcome: Using the data that came out of their Smart Imaging System, this processor was able to get to the root cause of why they had a lot of bone going out in the product they shipped to customers. The information collected by the system helped them unearth a maintenance issue on their deboning line. Every time they performed maintenance, bone incidents would drop down dramatically and then creep up over time until the next maintenance occurred.
Payoff: By adjusting the maintenance schedule on their deboning line, this harvest plant was able to significantly reduce the presence of bone in their product, reducing chargebacks by 40% and improving the quality of their product.
---
Eliminating foreign materials from the production line is crucial for maintaining a positive brand reputation. At the same time, plants need to achieve high throughput, sometimes zero FMs while working with tight margins.
Hyperspectral imaging has emerged as an effective solution for many processors. The technology can quickly and accurately detect foreign objects that may be invisible to traditional metal detectors or X-rays. This prevents contaminated products from reaching consumers.
We have seen many examples of hyperspectral imaging improving operations in real-world environments, and the cases above really illustrate these real world examples.
The benefits go beyond that too. By eliminating waste from recalls and retrievals, plants see a return on their investment in the technology. The systems pay for themselves while protecting the brand and ensuring the integrity of food production.
Hyperspectral imaging is a versatile solution that delivers value through enhanced quality, safety productivity and ROI. If you haven't tried P&P Optica's new, free Return-On-Investment tool to calculate your ROI potential, we recommend you spend some time with the calculator to see how your plant can benefit from the technology .