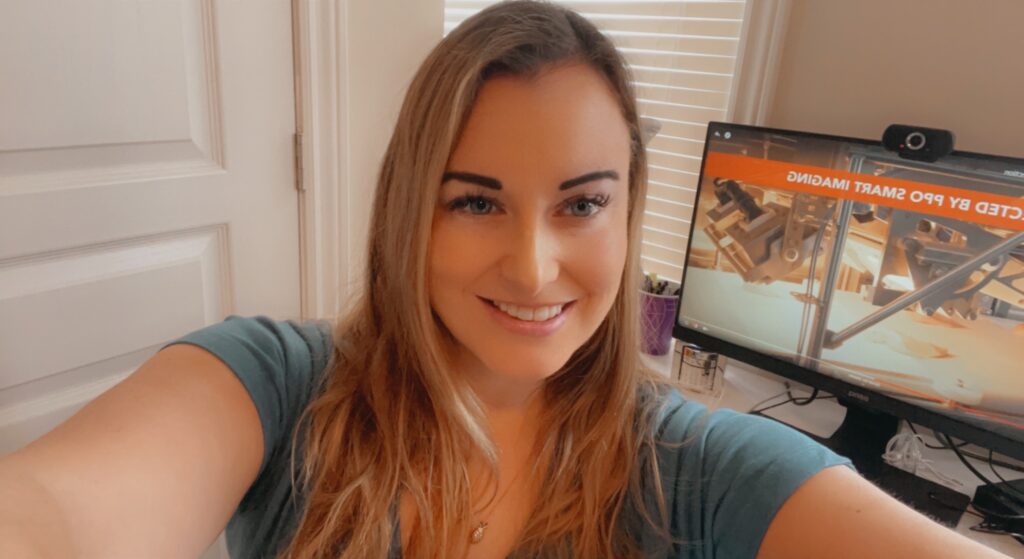 Curious to know more about the team at PPO? "People at PPO" is a blog series that highlights the work our team does every day. In each post, we interview one of our team members to get an inside view of PPO and to learn about their experience working here. Join us as we tell their stories and discover how their work impacts the technology we build.
In this post, we interviewed Dr. Andrea Weeks, R&D Projects and Experimentation Lead at PPO. We asked her questions about research at PPO and in the food industry. Here's what she had to say:
J: Hi Andrea, it's so great to talk with you today and learn more about the work you do.
A: Thank you, excited to be here.
J: Let's start with what do you do at PPO?
A: I'm the R&D Project and Experimentation Lead. This means I manage R&D projects and read academic papers to investigate potential new applications for our system. I also use my expertise to develop project and experimental plans for new applications. When travel opens up again, I'm hoping to engage with the research community.
J: That's awesome! Could you walk me through what you do day-to-day?
A: Every day is different for me. Sometimes I'm in the office doing hands-on work with an R&D project. Other days I'm documenting the experiment process and planning experiments that will be executed in the near future. I also have ongoing communication with as many people as possible on the PPO team, like the product manager, sales and the applications team. My role is multidisciplinary, so it's important to communicate regularly with other teams.
J: How has your previous educational and professional experience prepared you for your role at PPO?
A: I have a Ph.D. in Biomedical Engineering where I studied polymer biomaterials. That gave me a good understanding of analytical testing methods which translate to the application work I do at PPO. And when I was in academia, I had early exposure to spectroscopy. That's been helpful to understanding PPO's technology. I also worked as a consultant in the food space for several years. There I was able to get an understanding of food science and learn how technology can be used in the industry. I also worked at the University of Guelph where I was able to engage with food science researchers. Both of those experiences gave me a solid foundation. Before joining PPO, I worked as a product manager at a company that produced advanced technology for medical device OEMs. In this role, I developed validation plans for new products and managed the execution. That gave me good experience regarding how to manage R&D projects and develop experimental plans at PPO.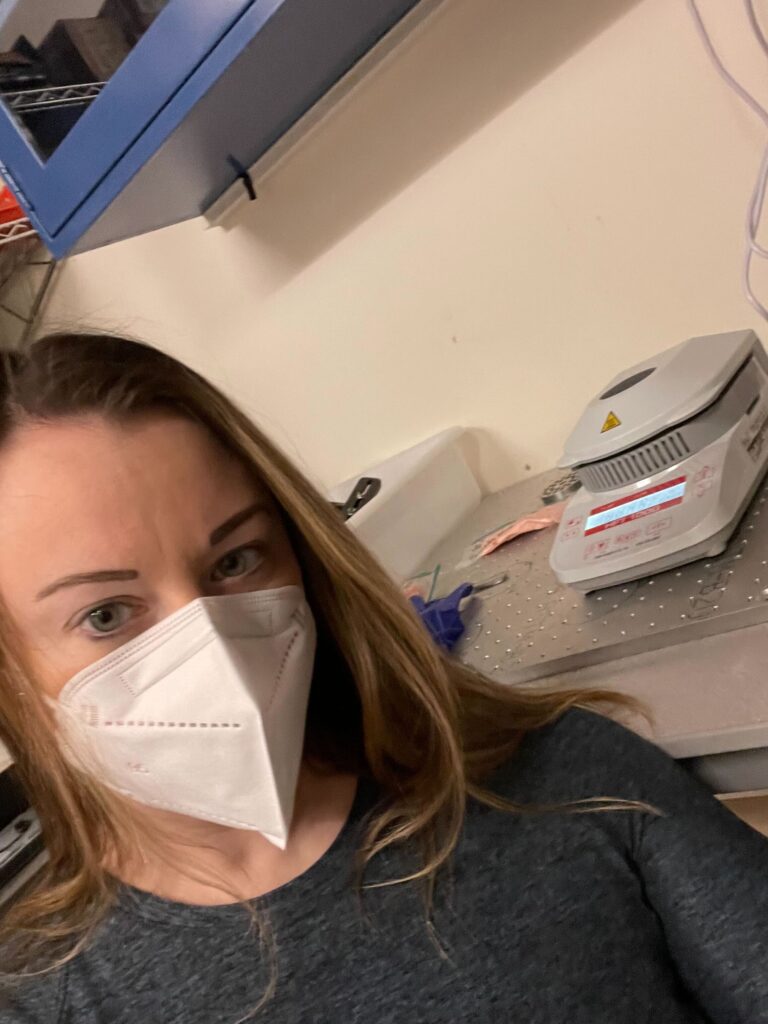 J: Are you able to share some exciting experiments you're working on?
A: There are a few that I'm working on. One of the projects I'm currently working on is measuring the fat-lean content of pork to enable real-time monitoring of pork composition on the production line. By looking at the fat-lean content of pork, we're also investigating whether this approach could be applied to other protein types. I'm also working on how we can better detect woody breast in chicken. Woody breast is when the chicken's muscle properties are abnormal causing it to be hard and pale. Lastly, I'm working on a project that looks at the efficacy of detecting different materials at different sizes with our system. The system has a lot of potential, so we're trying to understand its full capabilities. 
J: Why is research an important part of the work PPO does?
A: It's always important to stay on top of industry trends and the pain points. This helps us stay one step ahead and find where tech could add value. The earlier we investigate what our technology could help with, we can have confidence later on that it will add value to the customer. It's also important for companies to always be innovating. Innovation establishes you as a leader. It's key to being successful and to stay ahead of competitors.
J: How do you approach research?
A: When I first get a new topic or application, I do a broad literature search to get an understanding of the topic. I look at academic research papers and sometimes, depending on the project, I'll also watch videos on YouTube. This helps me visualize how the application works which is helpful for food processing applications that I've never seen in person. When I evaluate a new topic, I'll also make sure that there is a market need for the topic or application. If there is a market need, we can proceed to do a deep dive on it. This means we get to conduct new experiments and collect data. I learn well with hands-on work so I always get excited when we get to conduct experiments and collect data.
Another way I approach research is by connecting with the research community. I'm looking forward to growing the research program at PPO and to sharing what we've been working on. When normal travel resumes, I'm hoping to attend more industry research conferences where I can share what we're doing and build new relationships with others in the community. 
J: Moving on to a more culture-related question, what's your favourite thing about working at PPO?
A: There are two things that stand out to me. The first is that right when I started, the environment was so welcoming. Everyone was so eager to help me learn – they were quick to introduce themselves, so I could learn more about their role and answer all of my questions. I'm really glad I could interact with all the different teams early on. It definitely made the learning curve easier. 
The second thing is that the culture is very fun. We do lots of activities like mini-golf and trivia. Before I joined PPO, I was part of my company's event social committee. Nowadays, I find I don't get to do it as much event planning in my personal life with the pandemic. So when I joined PPO, I was so happy to continue to be part of the event social committee and help plan a variety of events.
J: We're so glad to have you part of the event social committee! As someone who is also on the committee, it's so great to have another person help out with our events. Going back to your role, what are you looking forward to working on at PPO?
A: I'm excited to work on projects that explore what our system can do and open up new business opportunities. Our system is changing how processors detect foreign material and assess quality. It's a new innovation in the food industry and I believe that it has the potential to do much more for processors. We're still learning about its full capabilities, so I'm excited to see what it'll be able to do in the future. I'm also excited to visit customers in person and learn more about meat science, which in turn, will allow us to improve our product's experience. And I'm looking forward to presenting at the Reciprocal Meat Conference in Iowa in June. 
J: Now looking into the future, where do you see the future of research and technology in the food industry?
A: From what I'm reading and when I talk to those in the industry, a common theme I come across is staffing issues. The pandemic is causing staff to miss work, and is creating high turnover in many industries, including the food industry. Because of this, I think there will be more implementation of automation in food plants. It reduces the need for human labour and is more accurate. Another trend I can see happening is the adoption of robotics. Before working in the food industry, I worked in the medical device field where I saw a trend in robotics adoption – I can see that also happening in the food industry. Similar to the food industry, medical devices is a slow industry where traditional pen and paper executives are making most of the decisions. I think when the tech native generation moves into decision-making roles, there will be more of an uptake of both automation and robotics.  
From a research perspective, right now PPO is highly focused on foreign materials in meat products like pork and chicken. In the future, we could expand into a variety of food processing applications to look at the quality such as woody breast and fat/lean of other types of protein. In the future, our system could be able to detect diseases in products. We can also expand into other food products like vegetables and fruit. As I mentioned before, our system has so much potential, it's a matter of discovering its full capabilities.
J: Ok one last question, what's your favourite food?
A: There's a lot of different foods I like. Whenever I travel, I'm very adventurous, and I like to try something new. For example, I tried gator bites in Florida, whale and reindeer in Norway and frog legs. I'm always up for something except for sheep head – I couldn't do that in Norway.
J: Oh interesting, since you've tried lots of different foods, do you have a favourite restaurant?
A: They don't exist in Waterloo, but when I'm in the States or at a resort, I like going to all-you-can-eat Brazilian Steakhouses. They serve things I like to call meat swords – it's a bunch of meat like chicken, sausage, steak, you name it, they serve it on a sword. They're my favourite thing.
J: Ok next time I'm either at a resort or in the States, I'll be sure to check it out. Thanks so much for taking the time to talk about your experience.
A: Thank you!
Interested in working at PPO? Check out our Careers Page for more information!