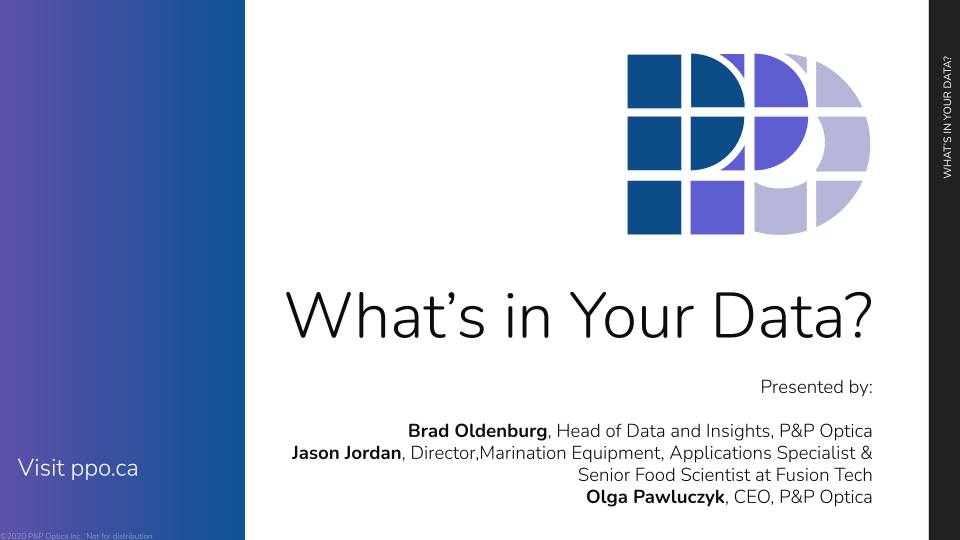 On May 28th, PPO presented a webinar that considered how data can be used to help make your plant more efficient with Artificial Intelligence (AI) and Machine Learning.. The webinar was presented by Brad Oldenburg, PPO's Director of Data Insights; Jason Jordan, an experienced Plant Operations Manager and Director of Marination Equipment, Applications Specialist & Senior Food Scientist at Fusion Tech; and our CEO, Olga Pawluczyk. 
The webinar began by reviewing the concepts of artificial intelligence and machine learning. We talked about why data is so important today, and considered the importance of data quality. Then we moved into what this looks like in a food plant, and reviewed a couple of examples. And the myriad of useful data that already exists (or could exist easily). We then finished it off by looking at how PPO uses AI and Machine Learning to provide our Smart Imaging System to our food processing clients.
If you missed the webinar, don't worry! A recording of it is available – click below to watch.