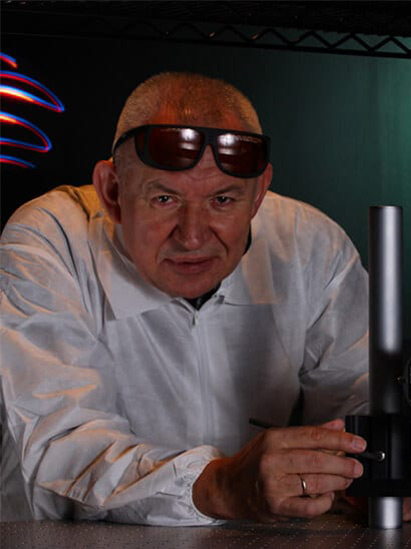 Dr. Romauld (Romek) Pawluczyk is an internationally recognized expert in the field of photonics and spectroscopy. He also recently retired as the Chief Scientist at PPO. Over the last 50 years, he's contributed to the field in various capacities. And he is a strong believer in using science to solve real world problems. 
In July 2021, The Optical Society (OSA) accepted Dr. Pawluczyk into their 2021 Class of Senior Members. This designation recognizes well-established individuals' experience and professional accomplishments or services within the optics and photonics field. We're incredibly proud of Dr. Pawluczyk's accomplishments and would like to share his story.
Dr. Pawluczyk in Academia
Dr. Pawluczyk started his optics journey in Warsaw, Poland. There, he worked on building lasers and was instrumental in developing the first holograms in Poland. He followed that achievement with work on developing microscopes and holographic micro interferometer. It was through this work that Dr Pawluczyk began his quest to improve noise suppression and optimize the signal to noise ratio in optical systems.
Dr. Pawluczyk at PPO
After he left Poland and moved to Canada, Dr. Pawluczyk established an optics and consulting company. Together with Pierre Peltier, he founded P&P Optica in 1995. At PPO, Dr. Pawluczyk designed the optics for our patented spectrometers. The spectrometers that he designed can collect light better and get more precise information faster than any others. In fact, they were so unique, he led our team to use them in different industries like oil and gas and space exploration. Today, we use Dr. Pawlyczyk's spectrometers for detection and inspection in the food processing industry.
Dr. Pawluczyk also built a clean lab for PPO, one of four labs he built over his career. To this day, the PPO team uses the lab to assemble the spectrometers that go into our Smart Imaging System.
An Inspirational Leader
During his career, Dr. Pawluczyk authored or co-authored over 40 patents and wrote or co-wrote over 80 publications. But it was his passion for photonics that inspired others. He has been a mentor and teacher in the optics world and has shepherded many people throughout his illustrious career. On top of his R&D work in Poland, he guided students through their M.Sc. and doctoral degrees. And as an adjunct professor at the University of Waterloo, he shaped the careers of many researchers in Canada as well.
Dr. Pawluczyk has also been foundational to the PPO team. He was a teacher to many of our team members. He was able to wade through complex problems and provide elegant solutions, allowing him to guide the management team and PPO's engineers to understand different applications. He was more than eager to come up with solutions for the next generation of spectrometers or lights. His sharp acumen allowed him to envision and build systems around Optics and Photonics. This led him to lay out the basic design principles for PPO. Thanks to his designs, our team can build great systems around spectrometers today.
The PPO team is grateful to have learned from Dr. Pawluczyk. His enthusiasm for optics and spectrometry continues to inspire us. We are so proud of his achievements and wish him the best of luck in his retirement!